The International Monetary Fund recently concluded a visit to Turkmenistan and praised its economic development and the efficiency of the policies put in place by President Gurbanguly Berdymuhamedov. These assessments and estimates, however, cannot be trusted, because IMF experts are not allowed to analyze the situation on the ground and are instead provided with edulcorated official statistics.
As Turkmenistan is undergoing a severe economic crisis, which shows its signs every day even to non-specialists, it is impossible to speak of any development or efficiency. The authorities have sporadically attempted to improve the situation, but were only able to take actions at the expense of the population. This has led on the one hand to a sharp drop in real income and purchasing power, and on the other hand to a galloping inflation.
Inflation has become such a problem that people can no longer afford locally-sourced produce. Fresh beef, for example, is considered a delicacy, while frozen buffalo meat is much more affordable.
Small imports of buffalo meat from India to Turkmenistan started in 2009. Staunchest, a company registered in the UK, India and the UAE, has recently seized the lion's share of the market.
From 2013 to 2017, Staunchest has played the role of intermediary between Indian exporters and Turkmen retailers, importing 45,916 tons of frozen Indian meat for $118.5 million. Staunchest's business continues to flourish. The company has become the only supplier to Turkmenmyasomoltorg, the state-owned trader.
One kilogram of frozen buffalo meat costs $2.6 to import, while the population has to pay twice that amount to buy it in the store. In addition, Staunchest's owners have close ties to the president's entourage and enjoy consistent benefits. For example, they never had a problem with the conversion of manat into U.S. dollars and, more recently, they have even skipped the conversion and signed contracts with the Turkmen government directly in U.S. dollars.
The names of both Staunchest and Dubai-based Privilege Corporation General Trading, owned by the same businessman, seem to ironically trace the only way in which business in Turkmenistan can be carried out successfully.
Mukhammed Kurbanov, former chief pilot of Turkmenistan's first president Saparmurat Niyazov, and deputy chief of the National Civil Aviation Agency, owns both Staunchest and Privilege. Kurbanov began his business career while still working as a pilot. He made his first money by moving around Soviet rubles between former Soviet republics during his flights aboard Turkmenistan Airlines' TU-154 in 1992-93. Kurbanov managed to transfer cash to many of his superiors and even earned himself enough money to retire from being a pilot and becoming a high-flying businessman.
First he traded oil products in Ashgabat. In 1998 the authorities questioned him and he subsequently fled, first to Russia, then to the UAE. Despite his questionable record with the Turkmen authorities, Kurbanov continued to do business in the country, even expanding his scope to electronics, construction materials and food.
Once Gurbanguly Berdymuhamedov came to power, the ex-pilot connected with Nazar Rejepov, husband of the president's sister, who controls almost all private business in Turkmenistan through his sons: Khajimurad and Shamurad.  The latter two became friends and partners of Kurbanov's children: Merdan and Maksat.
Merdan Kurbanov holds the position of general director of his father's companies Staunchest and Privilege. He manages the supply of Indian meat into Turkmenistan, enjoying his family's uncommon advantages, compared to any other business owner in the country.
Maksat Kurbanov, Merdan's younger brother, also enjoys the benefits of the family business. He regularly spends time with the president's nephews, accompanying them during their various leisure trips. The photo above shows Maksat Kurbanov relaxing with Khajimurad Rejepov (tagged as haj_tm) in Les Airelles, a luxury hotel in Courchevel ski resort, in the French Alps. The photo appeared on Khajimurad's personal instagram account. The picture of Maksat Kurbanov sipping champagne was taken in the resort's hotel with the cheapest room starting at €1,650 per night. It is unclear how many nights they spent there.
The next photo shows Maksat Kurbanov relaxing at the birthday party of the other presidential nephew, Shamurad Rejepov. Shammy, as they call him in Turkmenistan, turned 30 in late September. Khaji Yazmammedov, a famous local singer, performed at the event.
In addition, Maksat recently married the Turkmen beauty Sulgun Charyeva, daughter of Ilyas Charyev, former chairman of the Turkmen Commodity Exchange and former head of state-owned Turkmennebitgaz. Although currently serving a long prison sentence, Charyev still holds influence and wealth.
He blessed the young couple via telephone from prison, while the celebration was being held in Dubai. Surprised by the noisy ceremony, with dozens among Rolls Royce, Lamborghini, Mercedes and Porsche cars decorated with Turkmen carpets roaring through the streets, the inhabitants of the luxurious Palm Island complex filmed and shared on social media the Kurbanov wedding.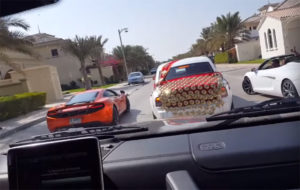 The principal banquet was held at the Sofitel Dubai The Palm Resort & Spa, a five-star hotel. Several guests of honor, including relatives of the president lodged in the same hotel. Famous artists, such as violin player Gasan Mamedov, singer Soso Pavliashvili and the band "Yalla", entertained the guests. Shammy reportedly danced during Mamedov's performance.
The wedding cost several hundred thousand U.S. dollars to organize, although such amount of money is not comparable to the capital they extracted from the state budget and from the pockets of ordinary citizens. In addition to second-rate Indian buffalo meat, they also ship containers full of basic goods, such as flour, sugar and butter.
President Berdymuhamedov, who is quickly losing control over the country's economic situation, is well aware that the people will forgive everything he does, as long as they are not starving. Therefore, he has reached into the depleting state coffers to give a semblance of abundance within the country.
Turkmenistan's foreign debt is a secret. What is known is that the government is running out of money and there are no resources left to raise cash. The Kurbanov family acts as an instrument of the Berdymuhamedov Clan to extract capitals from state-owned entities and transfer funds into their own pockets. Turkmenistan's debt, in the meantime, is growing. This course cannot be reversed unless the government stops building useless and inefficient processing plants, empty airports or futile golf courses.
While the president sings, dances, rides bikes, writes books and plays with puppies, his relatives and their close business associates openly plunder state resources, without fearing any consequence. They certainly do not fear for their future to the same extent that ordinary people do in Turkmenistan.

Распечатать | Сохранить в PDF | Отправить другу