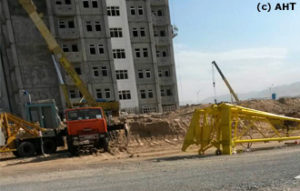 The State Service of Turkmenistan for combating economic crimes has pressured local construction firms to drop their claims against various ministries and departments for unpaid contracts. In recent years these firms have built public facilities across the country, such as kindergartens and schools. ATN collected at least three cases of pressure in the past two weeks.
The construction firms that reported the pressure said they had all completed their projects and the facilities they built are already in operation. The state, however, has not yet paid for their work in full. Some firms said they were owed around 3 million manat, equivalent to around $1 million at the official exchange rate.
An ATN source reported that employees of the State Service for combating economic crimes, established in June, visit the construction company that claims a credit against the state, and seize its financial records. Several days later, the service summons the firm's manager and chief accountant and points to inflated estimates, especially regarding construction materials.
"If a company was owed 1 million manat, the State Service slaps a 1.2 million manat fine. This forces the managers to review their options," a source close to the construction industry told ATN.
Managers sign a document stating that they withdraw any financial claims against the state customer. In addition, the company will have to pay a 200,000 manat fine.
"Firms always inflate the estimates because with that they include kickbacks to state officials that decide on who gets a construction tender. If you don't bribe them, you will not get a tender," the source explained, adding that kickbacks can be worth up to 50% of the contract.
Sources from construction companies that spoke to ATN believe that the government deceived them. Firms are currently unable to freely convert manats into U.S. dollars and thus cannot pay their foreign suppliers. In addition, not having received what was due to them, the firms have been unable to pay their workers in full.
"We buy most building materials and furniture abroad. From wood to space heating systems and bathrooms, it's all imported. How do we pay for this if the state doesn't pay us and even fines us?" a businessman told ATN.
He said construction companies will not seek justice in Turkmenistan because it is "useless." Most companies have closed down or are currently undergoing liquidation, still in debt with foreign and domestic suppliers.
***
In 2011-2012 the Turkmen authorities announced they would give priority to local construction firms for new public projects. Inspired local entrepreneurs have created dozens of companies across the country to participate in state tenders. They built kindergartens, schools, apartment buildings and roads. Payment for the projects was generally made upon completion, and in most cases, the final installment was sent after the building was already in operation.
When in 2014-2015 Turkmenistan was hit by economic crisis, payments started to be delayed until closer to 2017 they became sporadic. Observers in Ashgabat said they believe that the state simply cannot pay the contractors and is instead "milking" them through arbitrary fines for extra cash into the ailing state budget.

Распечатать | Сохранить в PDF | Отправить другу