In the city of Garabogaz (formerly known as Bekdash), which lies on Turkmenistan's north-western border with Kazakhstan, a humanitarian crisis is facing the local residents. Many have lived a winter without clean drinking water, and the gas supply to their homes is so poor that they can no longer use it to cook food. It hasn't heated their homes for years.
Alternative Turkmenistan News first raised concerns about living standards in the area three years ago, in a report from January 2015. Local people say nothing has been done to help them in the intervening three years.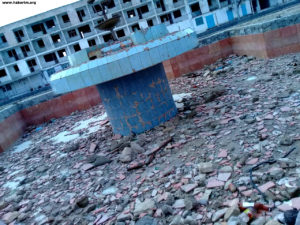 Already lacking the essentials of life, residents are being squeezed even further by rising prices and high rates of unemployment. For those who cannot leave, survival depends entirely on casual work that comes and goes. The rates of family breakdown and suicide in the city rise as despair takes hold.
The city's biggest employer is Gap Insaat, a Turkish owned construction company, which is building a carbide manufacturing plant together with a Japanese firm. Getting a job there is an impossibility for anyone who doesn't have personal connections in the management or cannot pay the required bribes.
The company's recruitment is conducted entirely by Turkmenistan nationals, and the going bribe to get a job as a builder or laborer is $300. Other people get in by asking personal contacts in the police or prosecutor's office to make a phone call to the company threatening problems with paperwork if their friend or relative isn't given a job. Few managers in the company would risk a clash with the authorities by refusing.
While local people in Garabogaz are crying out for work, many workers on the project come from other regions of the country, particularly from Dashoguz. These migrant workers themselves face new upheaval on completion of the plant construction this summer when their work placements come to an end.
Kairat, a former resident of Garabogaz who now lives in Kazakhstan, was shocked at what he found on visiting the place in January: "Just incredible. The streets are empty: people used to be out and about in the evenings and on national holidays, but even the young people stay at home now. Everyone is just harassed, trying to survive from one day to the next," he said.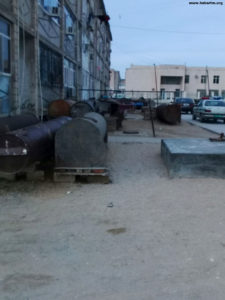 "There isn't much pleasure in taking a stroll around the city these days anyway. Even the fountain in the main square no longer works, it is shattered to pieces."
Those who remain in the city have bigger things to worry about, however, as they grapple with a growing humanitarian catastrophe.
The last time drinking water was delivered to the city was in December. Residents have the right to free water deliveries when they register with the local council, but deliveries can be delayed for weeks at a time.
The reason is that drivers vastly prefer delivering water to customers who will pay them well to fill up private tanks and underground cisterns. There is little to stop the drivers inflating the price, and the water is provided to them for free, ostensibly as a municipal service, by the local desalinization plant. One cubic meter of water now goes for a street price of 20 manats ($2), sometimes pushing 50 manats for those who can only purchase in small quantities.
"When they hear a water truck coming to deliver paid water, those who can't afford to buy it run out with buckets. They hope that the rich man would kindly fill their bucket, and they usually get it," Kairat said. In the past sea water had been pumped into the residential districts for washing purposes, but eventually it corroded the pipes and the pumps have fallen into disuse. It is illegal for people to build sea-water pumps themselves.
In winter, residents have little option but to try to heat their homes using gas fires, which are banned by the authorities. The gas supply is so poor that few can keep these fires going anyway, and the gas pressure is often insufficient even to light up a gas ring. Electric heaters and cookers are not much of an alternative either due to frequent and lengthy power failures in the area.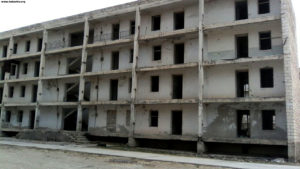 Local authorities here, like in many regions of Turkmenistan, have started demanding that homes have gas meters installed. Unfortunately, few people can afford to buy them. The state pension, for example, is not enough to cover the cost of installation.
These same local authorities have done little to help people in their city. One glaring example is housing. While claiming that no housing is available for those in need, the council has let several tower blocks stand empty and fall victim to vandals.
"How can they say there are no spare apartments when there are clearly empty buildings with the windows and doors put through? People without homes would be willing to take these, repair them themselves and get utilities reconnected. The authorities won't even grant them this opportunity," Kairat said.
At one time the council had a policy of providing multiple apartments to people, purely on the promise that they wouldn't leave them empty. Now, even people in desperate need cannot access one apartment.
Local resident Irina Harchenko, a survivor of the Chernobyl disaster, moves around between her family and friends after the tower block her flat was in burned down in 2012. She has been refused housing by the city council.
At the same time, some apartment buildings in an empty neighborhood along the Caspian shore have been renovated and allocated to the army. A few other buildings were assigned to Gap Insaat: the company has fenced them off and begun doing them up for the construction workers they have brought in. Many local people, meanwhile, remain homeless, much to their bewilderment.
People are now waiting for the day the carbide plant opens that will, in the words of the local authorities, "contribute to the further improvement of the region's public utilities and better living standards for local people," as well as providing "more than a thousand" jobs.
Local people are skeptical about these figures and promises. They question how a new manufacturing complex will improve their access to clean drinking water, gas, electricity, provide decent roads or improve the attitude of the local authorities.
Garabogaz residents, who have the world's most concentrated reserves of sodium sulfate and other minerals on their doorstep, certainly wish to believe that better days are ahead.
Kairat has been in touch with ATN since his interview to inform that the water supply truck has finally arrived in his former home in Garabogaz after a three-week interlude with no drinking water.

Распечатать | Сохранить в PDF | Отправить другу