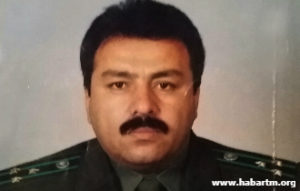 In the early hours of 4 December 2017, Begmurad Otuzov, former chief of investigations department at the Turkmen National Security Service and former deputy Prosecutor General, died in custody.
On 23 October 2002, Otuzov was sentenced to 19 years in prison (media and human rights activists wrongly reported that he was sentenced to 25 years) on a number of charges, including illegal inspections and property seizures.
No-one knew of Colonel Otuzov's fate during his custody. His relatives prepared parcels for him, but they were never allowed visits. Nobody in his family or among his former colleagues knew where he was being held. For 15 years, Otuzov lost contact with the outside world. The "Prove they are Alive!" campaign listed him among dozens of other former Turkmen state officials, businessmen and young practicing Muslims that disappeared in Turkmen prisons.
It was first reported that Otuzov had died in the notorious Ovadan-Depe prison, but his relatives received his body in the morgue of Tejen. His former colleagues said that Otuzov had most probably served his sentence in the maximum security prison AH-K/4 in Tejen. Had he died in Ovadan-Depe, his body would have been transferred directly to Ashgabat, rather than Tejen, which is located in the opposite direction.
"Otuzov's body had become so emaciated that his relatives could only recognize him by his birthmarks," a former colleague told ATN. Together with "many others" he had attended Otuzov's farewell in Ashgabat before the body was taken to Dashoguz for the funeral.
Officials recorded the cause of his death as heart failure. An ATN source reported that Otuzov's chest had been opened and stitched back together.
Begmurad Otuzov graduated from the Department of Law at Turkmen State University and from the KGB academy in Kiev. Otuzov started out in the Border Protection Forces and was later invited to the secret service.
A relative of a political prisoner whose file passed through Otuzov's hands said that Colonel Otuzov was one of the few officers in the secret service who showed a hint of human compassion for political prisoners in the late 1990s. When families stood outside with parcels for their detained relatives, sometimes he would personally collect them and hand them over to the detainees.
"With our family, Colonel Otuzov was polite and correct, never raising his voice. When his boss Muhammed Nazarov realized that he would not have been able to extract a confession from a prisoner, the case was transferred to another officer," a source that had known Otuzov told ATN on condition of anonymity.
At the same time, human rights groups say that Otuzov was among those who repressed any form of dissent between 1995 and 2001. Memorial, a human rights center in Russia, said he was directly involved in investigating the cases of dissidents Abdy Kuliyev, Khoshaly Garayev and Muhamedkuli Aymuradov, as well as the case of RFE/RL's current reporter Yovshan Annagurbanov. As he was in charge of the investigations team, Otuzov spearheaded a repressive campaign aimed at discrediting dissidents and harassing their relatives.
"On March 1 1995, I was at a press conference in Moscow dedicated to the cases of Garayev and Aymuradov. Upon my return to Ashgabat, Otuzov summoned me to his office and threatened me: had I campaigned for the release of my husband, I would also be thrown in jail and the child I was carrying, due to be born the following June, would have been taken away. Otuzov said: 'No-one in the world can help you in this case, even if [President] Yeltsin himself would ask for Garayev [we would not free him]'," Bayramsoltan Ballyeva, Khoshaly Garayev's wife, told Memorial in an interview.
In 2002, Otuzov was dismissed from his post, lost his military ranks, and was subsequently summoned for questioning. The interrogation lasted several days.
"On the last day as a free man, he was offered the opportunity to say goodbye to his family and friends. He phoned several close colleagues and friends and told them: 'If there is water and a slice of bread, I will return'," a former colleague said.
On 5 December 2017, at night, Begmurad Otuzov's body was transferred to his native Dashoguz region and was buried in a cemetery in Koneurgench.
Several prisoners convicted in the early 2000s were reported dead in custody in recent months in Turkmenistan. ATN covered the case of Allamurad Allakuliev, former department chief at the secret police. Despite continuous appeals by global human rights advocates, the Turkmen authorities have refused to shed light on the fate of those who have disappeared within the local prison system.
Read this story in Russian

Распечатать | Сохранить в PDF | Отправить другу