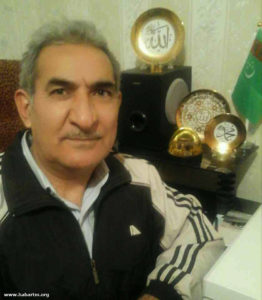 The top management of the Repair and Maintenance Department (RMD) of the Turkmenneft state oil company, together with the Balkanabad law enforcement officers, are setting up a provocation against Hekim Hajiev – a mechanic in this department who openly appealed to the President and international human rights organizations, Hajiev's colleagues told Alternative Turkmenistan News (ATN).
According to sources, RMD employees have recently received the text of Hajiev's official appeal, which was modified in a basic computer editor to include photos of some employees with rude captions, such as "drunkard," "thief," "Gestapo."
On another photo, Sergey Butenko, a workshop employee, was pictured drunk with captions like "Can't live without vodka," "Vodka is my life," "Slacker," The distributors of this fake appeal assert that this is how it was published on the ATN website.
This frame-up is just part of a wider campaign to defame and besmirch Hekim Hajiev. ATN has learbed that Rejep Gulmammedov – head of production site #2, showed the fabricated photo to Svetlana Butenko, Sergey's mother, and was convincing her to report Hekim to the police for slandering her son and disgracing him in front of the global community.
At first Svetlana Butenko refused to write a claim against Hajiev. However, on November 8, after her boss promised her three personal days and upgraded her son Sergey's level in the company, the woman gave up and filed a claim with the police, demanding criminal charges against Hajiev for wrongful accusation.
Her claim was taken forward immediately: in three days the police arrived to Hajiev's house during his lunch break and, without a warrant or an appropriate registration at the local police office, forcefully detained him, his wife and his daughter-in-law.
Hajiev and his relatives were questioned separately – obviously, to bring discord in their statements, put them under psychological pressure and split the family. The process was especially stressful for the two women. They were strongly advised to take any possible measures and talk Hajiev out of cooperating with ATN. His wife and daughter-in-law were told that they would all have "big problems" unless Hajiev stopped writing his appeals and fighting for justice.
While this hurriedly concocted claim was being investigated, another attempt took place to defame Hajiev's name and make a cheater out of him. To fabricate another charge, the security services have been looking for a "witness" who would "confirm" that Hajiev took certain goods from market merchants against a signed receipt and as if he is now hiding from the creditors, refusing to pay. Sources claim that the Balkanabad police will soon institute another "criminal case" against the author of appeals to the President and international human rights organizations, and "investigate" it by coercive questioning and pressurizing.
The regional department of the Ministry of National Security issued an order to the mobile and landline operators to block all Hajiev's SIM-cards, his home telephone line and internet access, from 17 October. This happened directly after ATN published his appeal to the international human rights organizations.
By appealing to the president and rights organizations, Hajiev hoped that the head of state would hear his plea and initiate investigations of public property embezzlements in the Repair and Maintenance Department of the Turkmenneft state oil company. Indeed, the investigations have started, only not against the people who embezzled the property, threatened and blackmailed Hajiev's family, but against the person who had courage to report it.
For more than a month ATN could not reach Hekim Hajiev, and whenever ATN contacted his family members, they seemed scared and defeated, refusing to tell anything about what happened to Hajiev and asking to be left alone. Absence of any information about a person and such behavior of his relatives gives a reason to assume that Hekim Hajiev may become another victim of enforced disappearance in Turkmenistan.

Распечатать | Сохранить в PDF | Отправить другу