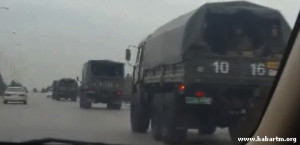 Reports from Turkmenistan say that in January, on the orders of the Defense Ministry, military commissariats in the capital and in the provinces resumed mobilization of privates, sergeants and officers, who are currently in reserve after compulsory military service. Couriers from the recruitment stations are serving military draft notices to reservists against personal signatures.
According to information ontained by Alternative Turkmenistan News (ATN), mobilization applies to all reservists, regardless of their previous arm of service and military occupational specialty. Most of the draft notices, however, are served to former tankers, artillery, motorized infantry, frontier guards, communications personnel, and those were in the Air Force and Air Defense.
According to ATN sources, no excuses are accepted. If a reservist does not show up at the recruiting station for any reason, officers from the military commissariat put pressure on him and his family.
«My husband served in the army 16 years ago. We have three school-aged kids. He received a draft notice, but couldn't make it to the commissariat at the appointed time — he had to urgently go to his mother, who had fallen ill. The next day, two people came from the commissariat and threatened that if my husband failed to show up the second time, he would be put on trial for draft evasion. But if he is taken away, what will I do with our three children? Who will support them? The recruitment center, perhaps?!" a woman from Ashgabat wrote.
None of the people writing to ATN know anything about the reasons for the mobilization of reservists, or the duration of service. Some think that this will be a short-term reserve training, others call it retraining. ATN only knows that in some cases, commissariats obtain the current employer's approval for mobilization. If the management does not "bail" their employee out by stating that he cannot be spared from the enterprise, he is instantly served a draft notice.  Reservists from Ashgabad and the surrounding areas are sent to a military camp in Bekrewe for one month, and then placed indefinitely in service at the military units stationed in Serhetabad (former Kushka).
One of ATN's readers sent a video, in which a column of army trucks, presumably carrying up to 100 mobilized reservists, is heading towards Mary province, accompanied by traffic police.
Bekrewe is currently the duty station for dozens of employees of government textile enterprises, the state-owned Turkmentelecom, a number of Ashgabat public transportation organizations, and other civilian agencies. Almost every reservist aged between 26 and 40 has dependent minor children.
According to an ATN source in law enforcement, the mobilization of reserve officers and soldiers is part of security measures on the Turkmen-Afghan border. The source refused to provide any details on the number of people affected.
It bears reminding that the situation on the Turkmen-Afghan border was discussed during the recent visit of the Russian Minister of Foreign Affairs Sergey Lavrov to Turkmenistan. Responding to a reporter's question on whether Russia could be expected to assist Turkmenistan in fortification of the border with Afghanistan and whether Turkmenistan was prepared to accept such assistance, Lavrov said that «our Turkmen friends gave us a full picture of how they are keeping the border with Afghanistan safely closed."

Распечатать | Сохранить в PDF | Отправить другу