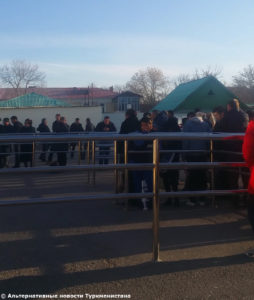 The number of Turkmens willing to move abroad continues to grow, as socioeconomic and political conditions worsen. Large-scale layoffs, economic uncertainty, increasingly absurd prohibitions and regulations have pushed residents of Turkmenistan to seek fortune elsewhere. Importantly, in recent months the number of ethnic Turkmens has grown among the people looking to move abroad. Those who leave their homeland hope to return in the future, "once the situation improves," and dream of going back to a new Turkmenistan. Most of them choose Russia, Turkey and Cyprus as their destination. The latter two countries have hosted entire families from Turkmenistan. The parents work and their children attend local schools. Azat Hatamov, an ATN correspondent in Turkmenistan, talked to some residents who are planning to leave their country and others who have already moved abroad.
***
At 8 a.m. around three dozen people lined up by the representative office of the Russian ministry of internal affairs in Ashgabat. They said that by 9.30, when the offices were scheduled to open, the crowd would have grown to more than one hundred. The Russian ministry office processes the paperwork of Turkmen citizens willing to register as migrants and prepares their permits to move to Russia. In the mornings, the office accepts applications, while in the afternoons it issues permits, calling up residents who had applied months before. Most of the people standing in line had Slavic features, but a significant number of ethnic Turkmens was there as well. They were reluctant to talk about their situation; most of them just mentioned that they were "preparing all documents" and were ready to "wait and see" if their application was accepted.
"It's difficult for a tree that has grown in one place, holding the sands below with its roots, to be transplanted and flourish elsewhere. Of course, it will be difficult for us [if we move away]. We are leaving the land where our relatives are buried and we don't know if the new environment will welcome or accept us," Tamara, a resident of Ashgabat, said.
She said she always thought of leaving Turkmenistan. First during the wave of mass out-migration following the collapse of the Soviet Union, then at the turn of the century when Turkmenistan introduced a visa regime with the countries of the Commonwealth of Independent States. By then, the Turkmen language had become prevalent in official and business document and in 2002 the authorities introduced a nine-year secondary education for Russian schools (a similar system in Turkmen schools had existed for several years already).
"Those were hard times. We were hungry [in the nineties] and yet my husband and I had a good job and enjoyed the respect of all our colleagues. We weren't rich, but we could afford enough to live comfortably. Every two years, we managed to save up enough money to afford a trip to visit our relatives in Russia. Flying to Russia on a visa felt strange, since we had lived as one country for 70 years, especially because our family is Russian. It felt as if I needed to ask permission before being allowed to enter inside my father's house. Eventually, we got used to it," Tamara said, adding that several among her friends had left Turkmenistan during this period.
She has lived in the same high-rise apartment building since 1994. Most of her neighbors have changed, Tamara said. All Russians had moved out, while Turkmen families had either moved to private houses in the suburbs or left the country for good. Most of the newcomers who bought or rented apartments there now hailed from peripheral provinces, rather than from Ashgabat.
Tamara said that she had not thought of moving during the first years of Gurbanguly Berdimuhamedov's presidency, because they were planning for retirement. Tamara and her husband had calculated that their long years of work would grant them a "decent" pension. In addition, the new president had promised significant changes and improvements for the well-being of the citizens. What people should have expected, however, were more disappointments. The new authorities increasingly tightened the screws, imposing new and harsher restrictions. For Tamara and her husband, the straw that broke the camel's back was the demolition of the Choganly village, where the couple owned a summer home. There, they had turned a strip of desert into a lush garden, where they kept chickens and rabbits.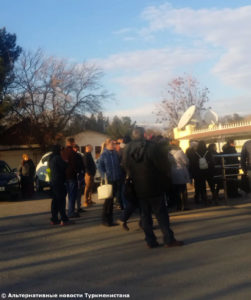 "At the end of 2014, the authorities told us they were going to demolish Choganly because of the alleged growing crime rate and the presence of illegal immigrants. At first, we could not believe they would tear down everything that we had built there over the years. The following spring, however, bulldozers razed everything to the ground, one house after the other, without regards for the owners. We complained, shouted, tried to block the bulldozers, without success. The workers told us they were just responding to specific orders and that we should address our complaints to the local administration. The residents who were out of town came back to find rubbles where their home once stood," Tamara said.
The homeowners were not compensated for the loss of property. Some received offers to exploit plots in the desert, where only "decades of taxing labor" would turn fertile the inhospitable land. Tamara refused the offer. Her family returned to their apartment but their health had been damaged from the stress. When their son asked them to join him in the Russian province of Krasnodar, they immediately agreed to move. Selling the apartment, however, became a nearly impossible task.
"Many in Turkmenistan mistakenly believe that property prices have fallen because of the 2016 ban on foreign currency transactions, but apartments are still commonly traded in U.S. dollars. In fact, lack of jobs, inability to feed families and uncertain prospects have provoked a massive outflow of residents in recent years, which has brought down real estate prices. People are constantly vexed even at their workplace: workers are denied their pay, businesses do not receive compensation for their services and authorities conjure up bogus violations to impose arbitrary fines. And all this in addition to increasingly harsh restrictions that leave baffled even Turkmens, who have become accustomed to every kind of abuse. Against this backdrop, locals choose to go to Turkey, Cyprus and Russia. This, together with growing poverty, has caused a disproportionate increase of apartments for sale, which inevitably brought down prices," Tamara said.
Tamara's family finally found a buyer, who offered an amount two times lower than the value of the apartment in 2015. While the deal had already been underwritten, the buyer let Tamara's family stay in the flat until their departure to Russia. Tamara said she hopes this will happen soon.
"As time goes by, we will start a new life close to our children and grandchildren," she said. "Our former colleagues, friends and neighbors, who left before us, already told us that getting used to the new climate and the new situation will be difficult for elderly people. Many of our older peers couldn't manage to stay in the new place for long, due to sickness and nostalgia. On the contrary, we are optimistic for our future, especially given the support of our children. We cannot survive in Turkmenistan, our homeland, under the current regime."
On the same day, in the afternoon, people at Russia's ministry of internal affairs office learned that the office had run out of migration permits. They could not guarantee when they would be able to issue new ones and advised the people still in line to call the office before coming again. At that point, people left the premises.
P.S.: Alternative Turkmenistan News tried to contact the office to verify the number of people that have applied for migration permits. The requests dated February 12 and 16 remain unanswered as of today. On February 16, ATN called the office, but the receptionist said that the head of the delegation was unable to take the call and would answer the questions in the near future.

Распечатать | Сохранить в PDF | Отправить другу