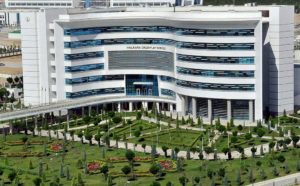 In Turkmenistan, 70% of Hepatitis C tests return positive. This unofficial statistic was shared by the doctors at the International Medical Research Center in Ashgabat.
The Center is the only medical institution in Turkmenistan for blood tests to detect diseases such as Hepatitis, diabetes and others. The Center is also the sole provider of general blood tests, which were once provided by every medical center in the country. Now, however, the lack of adequate reagents in local laboratories has forced people to travel to Ashgabat to take the tests, for which they have to pay a fee. After all, the Center needs customers to pay off its construction costs and ensure its financial sustainability.
Maral, a patient from Mary, traveled to Ashgabat for some tests. While in Turkey, she and her future husband had decided to take HIV and Hepatitis tests before starting a family. After preliminary tests in Turkey, Maral was told that her blood displayed antibodies for Hepatitis C, which required additional tests to check if she was positive. She decided to take additional tests in Turkmenistan, where she had to return anyway to collect marriage documents.
Doctors of the immunology clinic in Mary took a general blood test and also tested her liver with ultrasound, without finding any anomaly. The epidemiological tests of the blood, however, returned positive for Hepatitis C antibodies, confirming the original Turkish test. The local doctor "reassured" the patient and told her not to worry, given that "in Turkmenistan, more than half the population is sick with some form of Hepatitis."
"The doctor told me that if I was still worried, I could go to take a PCR test at the Center to verify my health condition," Maral said. The PCR (polymerase chain reaction) test is one of the most accurate technologies for the detection of infectious and viral diseases.
High-tech tests, however, do not come cheap. For Hepatitis C, the test costs 1,300 manats ($341 at the official rate, $110 at the black market rate). After Maral asked the reason for such a high price, the Center's doctors said that the test was expensive and their institution had to become financially self-sufficient, because it was not supported by the state budget. After learning of the cost for tests (twice the average monthly salary), most patients simply decline the test, turn around and leave the Center.
"Even if you're positive, you shouldn't worry," Maral reported the doctor as saying. "The disease won't kill you immediately. Plus 70% of the people we test here return positive for Hepatitis."
Playing hide-and-seek with statistics
Official statistics on infant and maternal death rates are kept under lock and key in Turkmenistan. Numbers on the incidence of tuberculosis, Hepatitis C, cancer and HIV are unknown to the public. Patients with such diseases are diagnosed with less alarming diseases in their official medical card, which in turn helps the Ministry of Health paint a good image of the country's health score.
Officials prevent local doctors who want to advance and update their scientific knowledge from traveling abroad for internships, seminars or conferences. In the past, there have been cases when doctors had planned to participate in scientific programs abroad through the U.S. Agency for International Development (USAID), which cooperates with the Turkmen Health Ministry. However, their managers discouraged them from participating unless they voluntarily gave up their jobs. Fearing a potential leakage of information abroad, hospital directors hinder any desire doctors may have to develop professionally, thus impeding scientific updates to domestic medicine. Doctors are often required by their bosses to show their passport in order to verify that they have not traveled abroad.
An immunologist working at a regional hospital in Turkmenistan told ATN on condition of anonymity that one of the most common causes of Hepatitis C is the use of non-sterile instruments in dental clinics, gynecology and urology hospital departments.
"In beauty salons, they just wipe off razors, tweezers and scissors with some vodka or simply rinse them with tap water. Our clinics are not more careful: dentists and gynecologists keep the same old tools under a germicidal lamp. This is commonplace in Turkmenistan, even in the most modern centers in the capital," the doctor said.
Maral said that it is impossible for people to afford expensive tests and subsequent expensive treatments.
"A mother of three daughters from Tejen arrived with me at the Center for a general blood test, but then she learned that each test would cost 120 manats. She could only afford to test one of her children. This is a kind of test that was previously done in any policlinic, even in the countryside!" Maral said.
The Center is generally flooded with patients. They form long lines and, in the summer months, they are left waiting in the heat without access to drinking water. The Center is formed of an International Cardiology Center, an International Center for Internal Medicine, an International Center for the Diagnosis and Treatment of Neurological Diseases, the International Center for the Gynecology, an International Ophthalmology Center, and a general Diagnostic Center. In the Berzengi district of Ashgabat, where the entire medical complex is located, there are no cafes or commercial stores. Patients have to walk to the Center for about one kilometer if they take the bus, as the Center is not even served by public transport.
For patients from faraway regions, the trip to the Center is extremely difficult. Hepatitis C test results, for example, are generally returned 15 days after the test. Given that doctors cannot give medical results unless patients personally show proof of identity, people who come from outside Ashgabat have to either lodge in the capital for two weeks or travel to Ashgabat twice for one test. Turkmenistan may have built state-of-the-art medical centers, but has not yet become familiar with online medical passports, which are commonly used worldwide.
"It looks like the authorities are trying to make it more difficult for their own people in the medical sphere. Under these conditions, patients have to either pay or die! Like in ancient Rome, only the strongest survive in Turkmenistan. And how ironic it is that our president is a doctor!" Maral said.
P.S.: Unfortunately, Maral's diagnosis was confirmed. She resulted positive to Hepatitis C. She is currently undertaking additional tests in Turkey. Married to a Turkish man, Maral is covered by her husband's insurance, which would pay all expenses for the tests. Furthermore, the upcoming treatment will be covered by the Turkish government's healthcare system.

Распечатать | Сохранить в PDF | Отправить другу