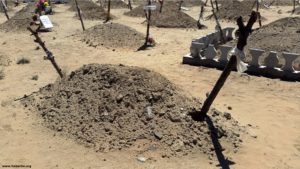 After Shirinbay Umarkuliev died of a heart attack in May, his wife Kyzlargul was asked not to place a headstone on his grave (pictured), in order to keep the news of his death away from a wider public. Shirinbay Umarkuliev was the father of Omruzak Umarkuliev, a student studying at a Turkish university in the city of Osmaniye, who founded a community of fellow students from Turkmenistan. The young man went missing at the end of March after having returned to Turkmenistan by invitation from the Central Election Commission to participate in a meeting before the parliamentary elections. Independent Turkmen media found out that Omruzak Umarkuliev was later sentenced to 20 years in prison.
Kyzlargul, a history teacher in a local school in Deynau, Lebap province, was summoned by the village council on June 26. The people who spoke to her strongly advised her against placing a headstone on her husband's grave. As Kyzlargul refused to comply, they threatened her, prompting her to "think about the daughters." The men did not introduce themselves.
According to local custom, a gravestone can be placed on a tomb only six months after the burial to allow the ground to settle. Until then, family members of the dead generally place a temporary notice on the grave. Reportedly, Kyzlargul is under pressure, even from the school board, to avoid placing anything on her husband's grave.
"Kyzlargul is desperate! She first lost her son to a long and senseless prison sentence, then suffered the death of her husband. They keep pressuring her from all sides, they summon her here and there, they threaten her so that she keeps quiet about her husband and son. Leave the poor woman alone!" a letter sent to ATN read.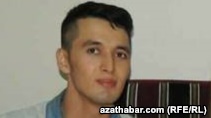 On February 21, 2018, Omruzak Umarkuliev (pictured), a Turkmen student in Turkey, by invitation of Turkmenistan's consul in Ankara, Murad Akmamedov, attended a meeting at the Central Election Commission in Ashgabat on the eve of parliamentary elections. According to the agreement, the Central Election Commission was to pay his travel expenses.
Umarkuliev had a ticket to fly back to Turkey on February 22, but the Migration Service at Ashgabat airport prevented him from boarding his plane, without explaining the reason for the ban. All his subsequent attempts to leave the country failed. On one of the days, he received a phone call from Lebap regional military recruitment office. They asked him if he was going to serve in the military. Earlier in January Umarkuliev had already provided an official document from his university that would have deferred his enlistment.
In June RFE/RL Turkmen service reported that Umarkuliev went missing at the end of March. Later he reportedly had been sentenced to 20 years in prison. It is unclear when the trial took place and what charges he faced.
In early May his father Shirinbay Umarkuliev died of a heart attack.

Распечатать | Сохранить в PDF | Отправить другу